67
WELDWOOD LANDAU ADHESIVE
LANDAU TOP & TRIM
HHR SOLVENT TYPE
SPRAY GRADE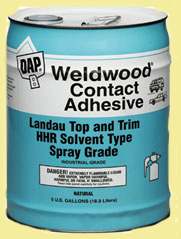 90002N1--1 GAL. CAN WELDWOOD CONTACT ADHESIVE


---
LOKWELD CONTACT ADHESIVE

LOCKWELD ADHESIVES ARE FORMULATED FOR THE TOUGHEST JOBS.
IT HAS A FAST DRY-TIME (3-5 MIN, ON AVERAGE). IT ALSO HAS A HIGH HEAT
RESISTANCE, STRONG PERMANENT BOND, WATER RESISTANT BOND, AND
HAS A DYE-FREE NATURAL COLOR
CAN BE BRUSHED, ROLLED, OR SPRAYED. MADE IN THE USA.
90002N4--1 QT. CAN LOKWELD CONTACT ADHESIVE


---
STODDARD SOLVENT



STODDARD SOLVENT IS USED TO REMOVE GLUE OVER SPRAY
OFF OF ALL SURFACES INCLUDING WINDOWS, CHROME & PAINT.

90000--1 GAL. STODDARD SOLVENT


***** WARNING!! DO NOT USE STODDARD SOLVENT FOR GLUE THINNER *****



ALL ADHESIVES AND SOLVENTS ON THIS PAGE DO NOT INCUR
A HAZARDOUS SHIPPING CHARGE.
HOME Page