106
PRES-N-SNAP TOOL

PRES-N-SNAP TOOL INSTALLS SNAPS & GROMMETS. THIS TOOL
COMES WITH ALL DIES FOR THE DURABLE (BUTTON TYPE),
PLUS DIES FOR THE #1 GROMMET. WE CARRY THE #0 & #2
DIES FOR GROMMETS TOO. WE ALSO CARRY REPLACEMENT
DIES (BUTTON, STUD, EYELET, SOCKET) FOR TOOL.

011384--PRES-N-SNAP TOOL. $144.95 EA.
011380--#0 GROMMET DIES....$32.95 EA.
011381--#1 GROMMET DIES.....$34.45 EA.
011382--#2 GROMMET DIES.....$39.95 EA.
PS1--REPLACEMENT BUTTON DIE...$21.95 EA.
PS2--REPLACEMENT STUD DIE........$21.95 EA.
PS3--REPLACEMENT SOCKET DIE..$20.95 EA.
PS4--REPLACEMENT EYELET DIE....$20.95 EA.
PS5--REPLACEMENT RUBBER RETAINER....$2.50 EA.

---
SNAP TOOL


UCS1--HAND TOOL FOR ALL DURABLE SNAPS $12.05 EA.

---
BOAT WINDSHIELD STUDS


10388--3/4" WIDE SNAP BOX OF 100 $36.00 $ 1.00 EA.

---
SNAP RING WEATHER GASKET


7650--SNAP RING BOX OF 100 $ 6.00 EA.

---
BABY DURABLE SNAPS
BUTTON**********SOCKET***********STUD************* EYELET



12105***************12205***************12303**************12402

12105--BABY DURABLE BUTTONS BOX OF 100 $10.00
12205--BABY DURABLE SOCKETS BOX OF 100 $10.00
12303--BABY DURABLE STUDS BOX OF 100 $10.00
12402--BABY DURABLE EYELETS BOX OF 100 $10.00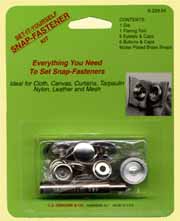 BABY DURABLE SNAP FASTENER KIT
CONTAINS
1 DIE, 1 FLARING TOOL
6 BUTTONS & SOCKETS
6 STUDS & EYELETS
K22920--$13.95 EA.

---
BUTTON SNAP CAPS


74030--#30 SNAP CAP BUTTON MOLDS $9.95 PER GROSS
74046--#36 SNAP CAP BUTTON MOLDS $12.95 PER GROSS
THIS BUTTON IS USED WHEN YOU WANT TO MATCH THE FABRIC
OR VINYL THAT YOU ARE PUTING UP (VAN SIDE WALLS OR
NEW HEADLINER). SNAP CAPS MOLDS REQUIRE A BUTTON MACHINE
TO MAKE BUTTONS, WE WILL MAKE THEM FOR YOU CHECK
PAGE 32 FOR PRICES.
"STUD NOT INCLUDED"

STUDS FOR ABOVE BUTTONS ARE ON PAGE 107
HOME Page